Durable, easy-to-use wall mounted breathalyser. Simply blow through a drinking straw to take a test. Coin & wave payment options available.
Request a quotation
Specifications

SKU: ALS-SOBERPOINT3-LITE

AS3547 certified: AS3547:1997

Sensor type: Replaceable fuel cell sensor

Testing mode: Specific testing only

Accuracy: ±0.005%BAC at 0.100%BAC

Response time: 6 seconds

Recovery time: 10 seconds

Calibration frequency: Unlimited tests, every 6 months

Compatible software: None

Built-in memory: None

Display: LCD screen

Power supply: AC: 110-240V 50-60Hz, 1A input / DC: 12V, 3A output

Weight: 3,500g

Dimensions: H: 33cm, W: 25.5cm, D: 9cm

Warranty: 3 years, extendable up to a lifetime under the Andatech Lifetime Guarantee

Includes Andatech Soberpoint 3, power cable, user manual.
Share
View full details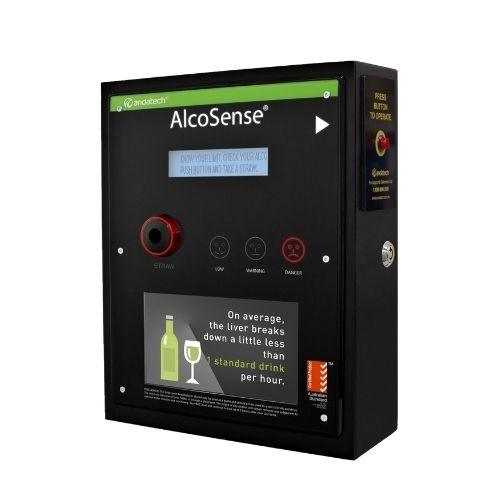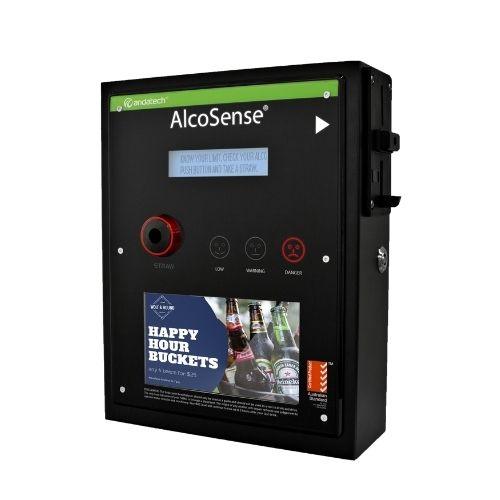 Convenient breath alcohol test for everyone
Wall mounted breathalyser for breath alcohol testing at building entrances and public spaces. Just push a button and blow through a straw. 
Accurate & reliable

Accuracy of ±0.005 %BAC at 0.100 %BAC. Australian Standard AS3547:1997 certified. 

Fast specific tests

Response time of 6 seconds and recovery time of 10 seconds before the next test.

Announcement / promotion display

Besides showing instructions for breath alcohol testing, the LCD screen can be used to display announcements.

Monetisation potential

Optional pay-per-test feature by accepting coins or cashless payment for each breath alcohol test.

No calibration downtime

Replaceable sensor allows the breathalyser to function when one is sent for calibration.
Breath alcohol testing with a potential for monetisation
Pay-per-test features that are suitable for income generation at hotels, restaurants, pubs, bars, and other licensed venues.
Andatech Soberpoint 3 Coin

Accepts $1 and $2 coins. You can decide the cost for each test.

Andatech Soberpoint 3 Wave

Allows cashless payment with credit card, debit card, or payWave.
How the Andatech Soberpoint 3 Wall-Mounted Breathalyser works
1. Press the button located on the side of Soberpoint 3 (or make a payment if using the Soberpoint 3 Coin or Wave versions)

2. Insert a straw and follow the instructions on screen.

3. The BAC test result will be displayed on the screen together with low, warning, or danger indication.
More information on the Andatech Soberpoint 3 Wall-Mounted Breathalyser
View and download the user manual for the Andatech Soberpoint 3 Wall-Mounted Breathalyser

User Manual

View and download the fact sheet for the Andatech Soberpoint 3 Wall-Mounted Breathalyser

Fact Sheet