Wall Mounted Breathalysers
Easily Replaceable Sensor
Our wall-mounted alcohol testers use removable fuel cell sensors that can be detached and re-installed for calibrations.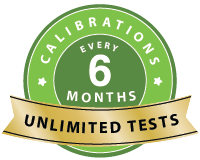 Customise your machine to use coin or push-button operation, WIFI, facial recognition, key management and more.
Collection:

Wall Mounted Breathalysers
Wallmounted breathalysers are ideal for installation at work sites that require employees or visitors to be tested before entry. They are also a preferred solution for licensed venues such as clubs, pubs, stadiums, hotels and event halls to encourage alcohol breath testing among their patrons or guests before leaving the establishment. Andatech's wall-mounted breathalyser range include models that cater to both workplaces and F&B establishments. Our range now include the latest technologies for facial recognition, key management, temperature scanning, and more - perfect for workplace, medical and public testing. Browse the full range below and feel free to contact us for more information or to get a quote.
Unsure of which model to choose? Compare breathalyser models and find the best fit for your company.
Calibration Management Plans
Maintain your breathalyser to Australian Standards AS3547 requirements by calibrating it every 6 months.
Get this process automated and completed easier, faster and more cost-effective with our yearly calibration management plans.
Ordering in large quantities or want a recommendation on the best breathalyser for your needs?
Contact our sales team now to discuss your requirements.
Wall mounted breathalysers for workplace safety

Andatech's range of wall mounted breathalysers are the ideal tools to enforce an effective workplace alcohol testing program. Units such as the Andatech Soberpoint 3 and Soberpoint 3 Lite are easy to use - employees can take an alcohol breath test on their own using a regular cylindrical straw, blow into the unit, and get a reading.
With the Soberpoint 3's wireless internet connectivity, OHS managers can even get the test results along with the unit identifier, date and time, sent directly to their email if the test result exceeds the company's set limit. The Andatech AccessPoint is another excellent option to breath test employees before they even enter the work site- ideal for construction sites, mining sites, or any entrance point. We also have the Andatech Soberlive wall mounted breathalyser, which is completely internet-enabled and allows user login, remote access, automatic upload of test results to a server, and more. This is done in order to enable OHS managers to completely and remotely control multiple breathalysers from multiple locations at the same time.
Wall mounted breathalysers help promote RSA

Businesses can demonstrate their commitment to Responsible Service of Alcohol (RSA) with an Andatech wall mounted breathalyzer in their establishment. By encouraging customers or club members to take a breath test after a few drinks, businesses can help to promote responsible drinking and driving at the same time. Furthermore, certain wall mounted breathalysers can be used to generate extra passive income.
The Andatech Soberpoint 3 Coin can be configured to accept any number of $1 or $2 coins for each breath test. For cashless convenience, the Andatech Soberpoint 3 Wave needs simply a swipe of a credit card or Paypass / Paywave to take a test, at a price set by the owner. Talk to us for options on using our wall mounted breathalysers for your licensed venue or establishment. Contact our sales team on 1300 800 200 to find out how you can get an Andatech wall mounted unit installed, maintained, and generating income at a low setup cost.