We put all our breathalyzers through extensive research and testing to ensure the highest level of accuracy, durability and reliability.
See why we're deemed to be the best breathalyzer brand in Australia with over 700+ positive breathalyzer reviews and testimonials from our customers.
All our alcohol testers are covered by our Breathalyser Guarantee, which extends the standard warranty on your breathalyzer up to 5 years.
Australia's First Choice for Workplace Breathalyzers Online

Andatech professional workplace breathalyzers are tested vigorously to Australian Standards to ensure accuracy and durability to maintain workplace safety and employee safety in your company. We also provide additional services including breathalyzer training, breathalyzer rental and calibration management. All workplace alcohol breath testers use industrial grade fuel cell technology that remain stable and accurate even with high volume consecutive testing. With added features such as bluetooth connectivity, wireless internet connectivity and data upload, our workplace breathalyzers make alcohol testing in any organisation efficient and effective. Andatech workplace breathalysers are also eligible for an extended 5 year warranty covered under the Andatech Breathalyzer Guarantee. Shop the range of workplace breathalysers online below and contact us if you'd like any assistance at all.
Collection:

Workplace Breathalyzers
Unsure of which model to choose? Compare breathalyzer models and find the best fit for your company.
COMPARE BREATHALYZERS
Calibration Management Plans
Maintain your breathalyser to Australian Standards AS3547 requirements by calibrating it every 6 months.
Get this process automated and completed easier, faster and more cost-effective with our yearly calibration management plans.
CALIBRATION MANAGEMENT PLANS
Ordering in large quantities or want a recommendation on the best breathalyzer for your needs?
Contact our sales team now to discuss your requirements.
GET A QUOTE
Alcohol breath testers for the workplace

Whilst breathalyzers are more commonly utilised by the police and individuals, many alcohol-related crimes and injuries happen within the workplace. If one or more employees have an addiction to alcohol, or are consistently arriving at work intoxicated, you need a fast and accurate means to gauge their blood alcohol levels.
It is paramount for employers to promote a safe and productive work environment to ensure the general health and wellbeing or everybody within it. Andatech alcohol breath testers are known for providing fast and reliable results so that you can quickly and efficiently breath test your staff members.
Ideal for pre-employment or random alcohol testing

Andatech breathalysers offer a non-invasive means to test your staff and are ideal for fast random checks, to police your workplace, without taking up too much of your precious time. We pride ourselves on the premium quality of our breath alcohol testers available online and their consistently accurate results for workplaces throughout Australia.
For information on our workplace alcohol testers or personal breathalyzers, or to know where to buy a breathalyser online in Australia, contact us today on 1300 800 200.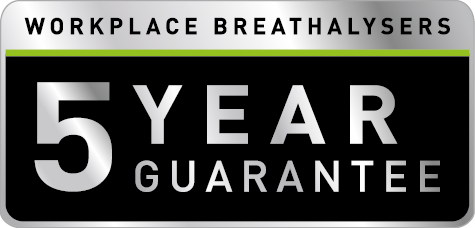 Backed by Andatech's 5 Year Guarantee
All Andatech workplace breathalysers come with a standard 1 year manufacturer's warranty.
However, if you calibrate your breathalyser every 12 months from the date of purchase, we will continue to extend the manufacturer's warranty up to 5 years from the original purchase date as long as the calibrations are maintained.