Whether you're looking to get your very first breathalyser or looking for the right gift for your loved ones, look no further than the AlcoSense Novo alcohol tester.
The AlcoSense Novo fits snugly in your pocket and provides users with a hassle-free one touch function, designed for ease of use without any complications.
This unit provides accurate readings at all times even if you're on a budget! Australian Standard certified.
Lifetime guarantee available upon regular calibration.
Regular price
Offer price
$135.45
Unit price
per
Offer
Sold out
Specifications

SKU: ALS-NOVO

AS3547 certified: AS3547:1997

Sensor type: Fuel cell sensor

Testing mode: Specific testing

Accuracy: ±0.01%BAC at 0.010%BAC

Response time: 22 seconds

Recovery time: 2 minutes

Calibration frequency: Unlimited tests, every 6 months

Display: Back-lit LCD

Power supply: AAA alkaline batteries x2

Weight: 84g including batteries

Dimensions: H: 11.4cm, W: 4.7cm, D: 2.4cm

Warranty: 3 years, extendable up to a lifetime under the Andatech Lifetime Guarantee
Share
View full details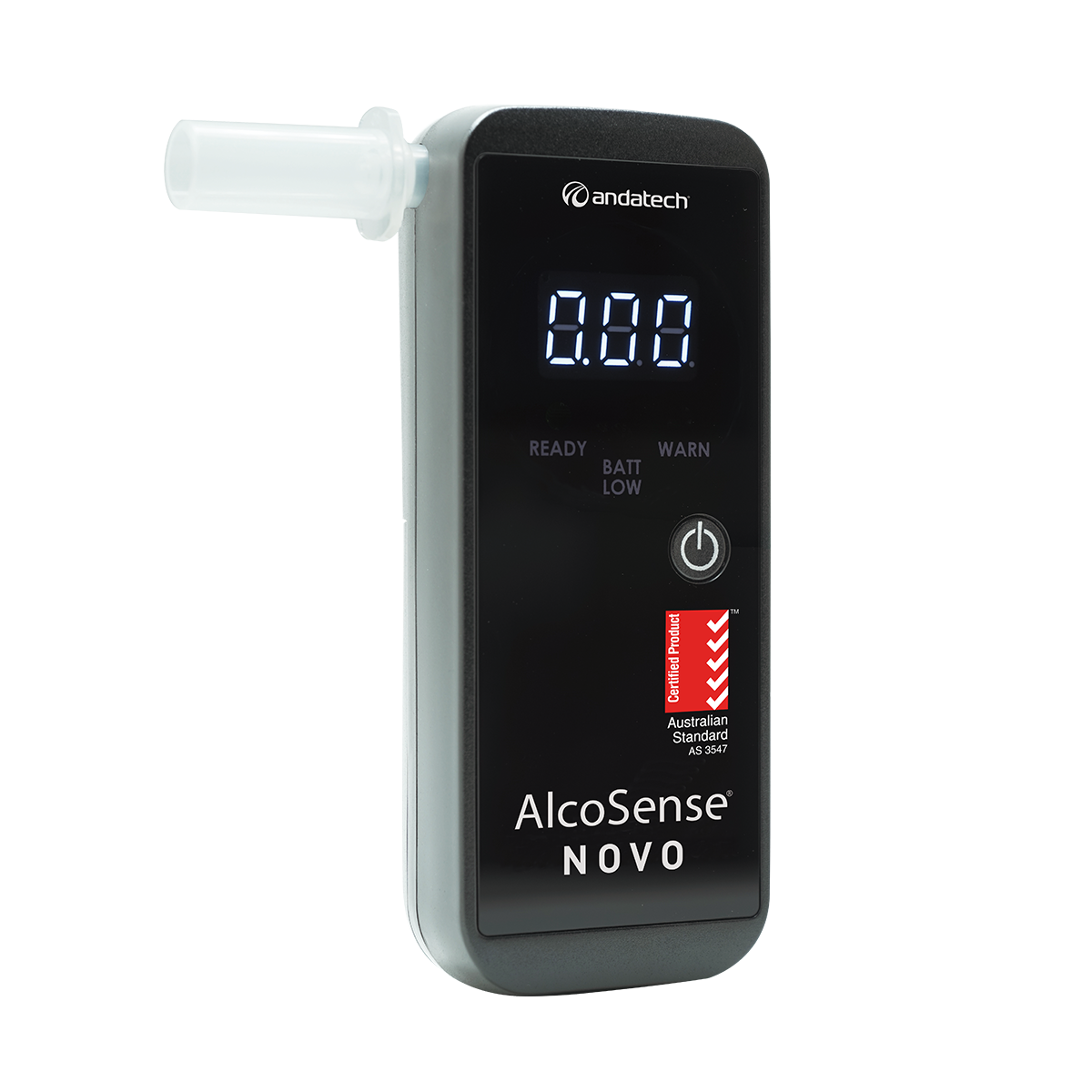 Accurate BAC readings at an affordable price
Budget-friendly personal breathalyser for young or new drivers.
Accurate alcohol testing

Assurance from the Australian Standard AS3547 certification.

Light & portable

Slim & sleek body for portability. Smaller than your mobile phone.

Stable BAC results

Quality platinum fuel cell sensor delivering BAC results with precision.

User-friendly indicator lights

Get a warning with an alarm sound if your BAC result is over 0.05%BAC.
How to use the AlcoSense Novo Personal Breathalyser
1. Switch on the breathalyser

Insert a mouthpiece and push the ON/OFF button. The device will display 'on' along with a welcome sound and start warming up.

2. Blow into the mouthpiece

When the device beeps and 'bLo' is displayed on the screen, blow into the mouthpiece steadily until you hear another beep.

3. Get your BAC results

The BAC result will be displayed for 20 seconds, along with a beeping sound.

If the result is over 0.05%BAC, the red 'WARN' indicator will light up along with an alarm sound.

4. Switch off or take next test

To take another test, wait for the indicator light to switch off and push the ON/OFF button.
More information on the AlcoSense Novo Personal Breathalyser
View and download the user manual for the AlcoSense Novo Personal Breathalyser

User Manual

View and download the fact sheet for the AlcoSense Novo Personal Breathalyser

Fact Sheet
Alco tested, use it all the time, Brillant thanks
Bought my son one for xmas to keep him safe, as myself, well really bought the first one for my husband but he doesn't use it .
Excellent Product
Brilliant product. easy to use, simple to use and as far as im aware very accurate. best for peace of mind