Wall mounted breathalyser with facial recognition for user verification during breath alcohol tests. Sync test data to the cloud via Andalink.
Request a quotation
Specifications

SKU: ALS-SOBERLIVE-FRX

AS3547 certified: AS3547:2019

Sensor type: Replaceable fuel cell sensor

Testing mode: Specific & passive testing

Accuracy: ±0.005g/210L at 0.100g/210L

Response time: 5 seconds

Recovery time: 1 seconds / 20-30 seconds for facial recognition and temperature screening

Calibration frequency: Unlimited tests, every 6 months

Compatible software: Andalink

Built-in memory: 10,000 registered faces / 20,000 test results

Display: LCD screen

Camera: 1 megapixels

Infrared temperature sensor: Accuracy within +/- 0.3°C / Less than 1 second response rate

Internet connection: Ethernet, Wi-Fi, 4G (optional)

Power supply: AC: 100-240V 50-60Hz / DC: 12V 3A

Weight: 1,243g

Dimensions: H: 22cm, W: 20cm, D: 8.8cm

Warranty: 3 years, extendable up to a lifetime under the Andatech Lifetime Guarantee

Includes Andatech Soberlive FRX, power cable, RS232 cable, user manual, 2 straw adaptors, 5 sampling cups, 2 keys (unlock to connect to bracket), 2 screws, 2 wall plugs.
Share
View full details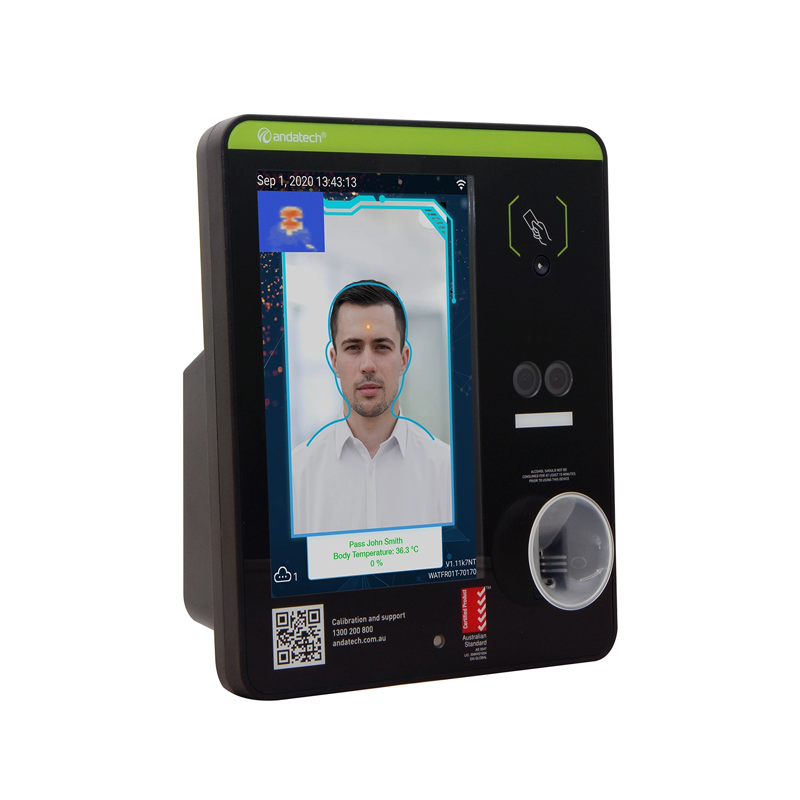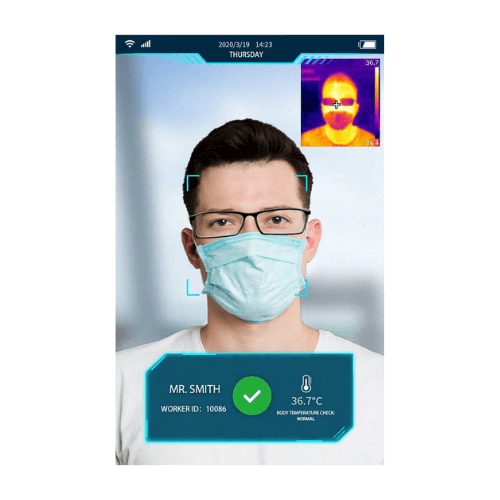 Keep track of workers' breath alcohol test data
Wall mounted breathalyser with temperature screening and facial recognition technology for breath alcohol testing on-site and in workplaces. Data synced with Andalink.
Accurate & reliable

Accuracy of ±0.005g/210L at 0.100g/210L. Australian Standard AS3547:2019 certified.

Instant user verification

Facial recognition verification before, during, and after each breath alcohol test to prevent fraud.

Fast passive & specific tests

Response time of 5 seconds and recovery time of <30 seconds before the next test.

Centralised data in one place

Secure breath alcohol test data management through Andalink for multiple breathalysers.

Automatic alerts & reports

Email notification for regular reporting and alerts for test results over a set limit.

No calibration downtime

Replaceable sensor allows the breathalyser to function when one is sent for calibration.
The Andatech Soberlive FRX should not be solely used to diagnose or exclude a diagnosis of COVID-19 or any other disease. Elevated body temperature should be confirmed with secondary evaluation methods such as a TGA approved, medical-grade thermometer.
Breath alcohol screening that suits your needs
Opt for back-to-basics or additional features for advanced uses.
Temperature screening

Get the Soberlive breathalyser with or without temperature screening to focus on just breath alcohol testing.

RFID card reader

Enable the RFID card reader to record employees' or contractors' breath alcohol results without the facial recognition feature.

Door access control system

Connect the Soberlive breathalyser with existing door access systems to track attendance and grant or deny entry based on an employee's BrAC result.
Customise it for your alcohol-testing application
Whether it's for public use or workplace alcohol testing, the Soberlive FRX can be wall-mounted or installed in various configurations to suit your needs.
How the Andatech Soberlive FRX works
Face the camera

Stand in front of the Soberlive and face the camera.

Pass facial recognition

The device will identify your face instantly and take your temperature (on the FRX model).

Blow into the breathalyser

When prompted, blow into the straw or sampling cup on the breathalyser.

Get alcohol test results

The test result data will be synced with Andalink online.
More information on the Andatech Soberlive FRX Wall-Mounted Breathalyser
View and download the user manual for the Andatech Soberlive FRX Wall-Mounted Breathalyser

User Manual

View and download the fact sheet for the Andatech Soberlive FRX Wall-Mounted Breathalyser

Fact Sheet