Raise the bar on safety at your next gathering with the dependable and portable AlcoSense Verity breathalyser. Equipped with a retractable mouthpiece for added ease of use, this device simplifies responsible drinking through its user-friendly one-button operation.
It includes a dual testing mode for pass or fail alcohol detection and can also provide a specific blood alcohol content reading. The Verity proudly carries Australian Standard AS3547 certification. Plus, you can even enjoy a lifetime guarantee by maintaining regular calibration.
Regular price
Offer price
$244.55
Unit price
per
Offer
Sold out
Specifications

SKU: ALS-VERITY-N (Navy), ALS-VERITY-BL (Blue), ALS-VERITY-W (White), ALS-VERITY-GRY (Grey)

AS3547 certified: AS3547:1997

Sensor type: Fuel cell sensor

Testing mode: Specific and passive testing

Accuracy: ±0.005%BAC at 0.050%BAC

Response time: 10 seconds

Recovery time: 10 seconds

Calibration frequency: Unlimited tests, every 6 months

Display: Back-lit LCD

Power supply: AAA alkaline batteries x2

Weight: 66g including batteries

Dimensions: H: 10.0cm, W: 4.4cm, D: 1.5cm

Warranty: 3 years, extendable up to a lifetime under the Andatech Lifetime Guarantee
Share
View full details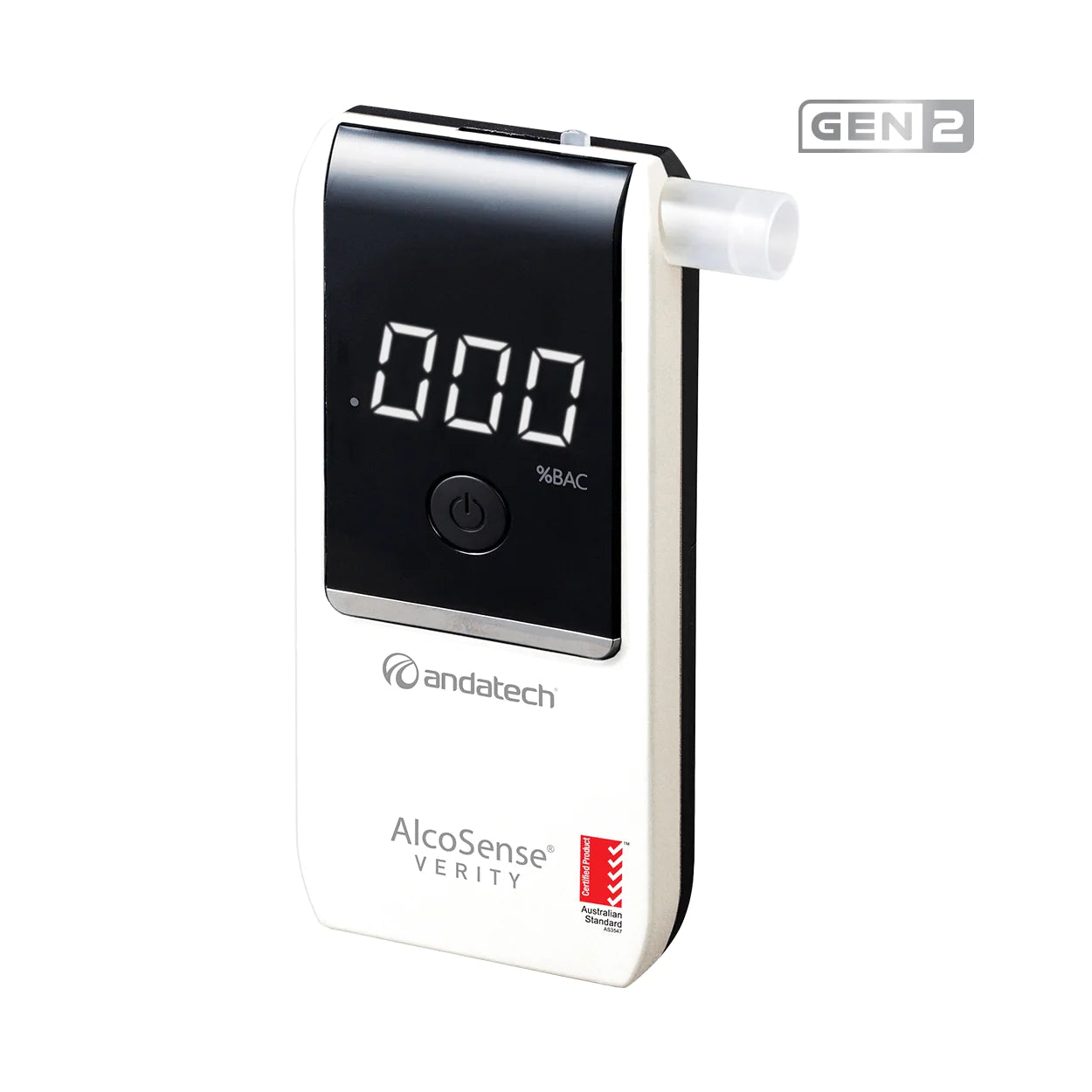 Reliable BAC readings at all times
Know when it is safe to be on the road.
Accurate at all times

Assurance from the Australian Standard AS3547 certification. 

Light & pocket-sized

Slim & sleek personal breathalyser that's smaller than your mobile phone.

Fast & stable

Quality platinum fuel cell sensor delivering BAC results with precision.

Convenient

Built-in retractable mouthpiece. Replaceable mouthpieces are optional.

Stylish design

Choose your favourite colour to suit your personal style.

Alcohol test records

Easily check the past 10 alcohol test results taken on the Verity breathalyser.

Calibration reminder

Check when calibration is due anytime and get a calibration reminder up to 30 days.

Fast test mode

Detect alcohol presence or absence within seconds with just the click of a button.
Get your BAC reading in 10 seconds
1. Slide out or attach mouthpiece

Slide out the retractable mouthpiece for personal alcohol breath testing.

Alternatively, attach a mouthpiece into the mouthpiece slot to test others such as family and friends.



2. Switch on the breathalyser

Press the power button and wait for the breathalyser to warm up.

The '0' sign will display when the Verity is ready to take a test.

3. Take a breath test

Blow into the mouthpiece for 4 seconds or until you hear a click.

Make sure to refrain from eating and drinking 15 minutes before the testing.

4. Read BAC results

Read the result displayed in %BAC. '050' should be read as 0.050%BAC.

Fast mode

Press the power button once when blowing. The result will show 'P' when no alcohol is detected and 'F' sign otherwise.
More information on the AlcoSense Verity personal breathalyser
View and download the user manual for the AlcoSense Verity

User Manual
Rr
The readings give me confidence that I am under .05. That is important to me.
Don't use it much as it has taught me how much I can legally have
Cheap Insurance
Enables you to understand how much you can drink before it's unsafe to drive. A no brainer !
Easy to use!
A friend recommended this model, it is very easy to use, and handy to have in the glove box!
Best $269 I've ever spent
I have one in my car, and one on the boat. This product is fantastic - easy to use, reliable and accurate. It's also a great way to get to know and understand your own alcohol metabolism. Me and my wife can have the same number of drinks, but our readings will be completely different because I'm twice the size of her and tend to metabolise alcohol very efficiently. Always good to know and have peace of mind before driving. And if you're a little over, you can always drink water and wait until you're under. Everyone should have one in their car and use before driving.
Best present ever!
Got it for my husband and he's very happy with it, uses it quite often. Still less than 6 months since the first usage so it'd be interesting to see how will the gadget perform later in the year.
Good Product
Well, I used it the other morning. I was over and did not drive. I used it the other morning and Under. I then drove, pulled up by the Police at a road block and blew 0's.
So, it is fair to say it was the cheapest $200 I spent.
Saved me losing my license and a $1000 fine.