Temperature screening device with facial recognition technology for user verification at entrance. Compatible with various access control systems.
Specifications

SKU: ALS-ACCESSPOINT-FRX

Compatible software: Andalink

Built-in memory: 20,000 registered faces / 20,000 test results

Display: 8" TFT LCD

Camera: 2 megapixel with visible light and infrared

Infrared temperature sensor: Accuracy within +/- 0.3°C / Less than 1 second response rate

Internet connection: Ethernet, Wifi, 4G (optional)

Power supply: Input: AC 100-240V 50-60Hz 0.8A / Output: DC 12V 3A

Weight: 1,280g

Dimensions: H: 23.7cm, W: 12.7cm, D: 1.8cm

Warranty: 3 years, extendable up to a lifetime under the Andatech Lifetime Guarantee

Includes Andatech AccessPoint FRX, user manual, USB cable, TTL, RS232 cable, switch signal.
Share
Request a quotation
View full details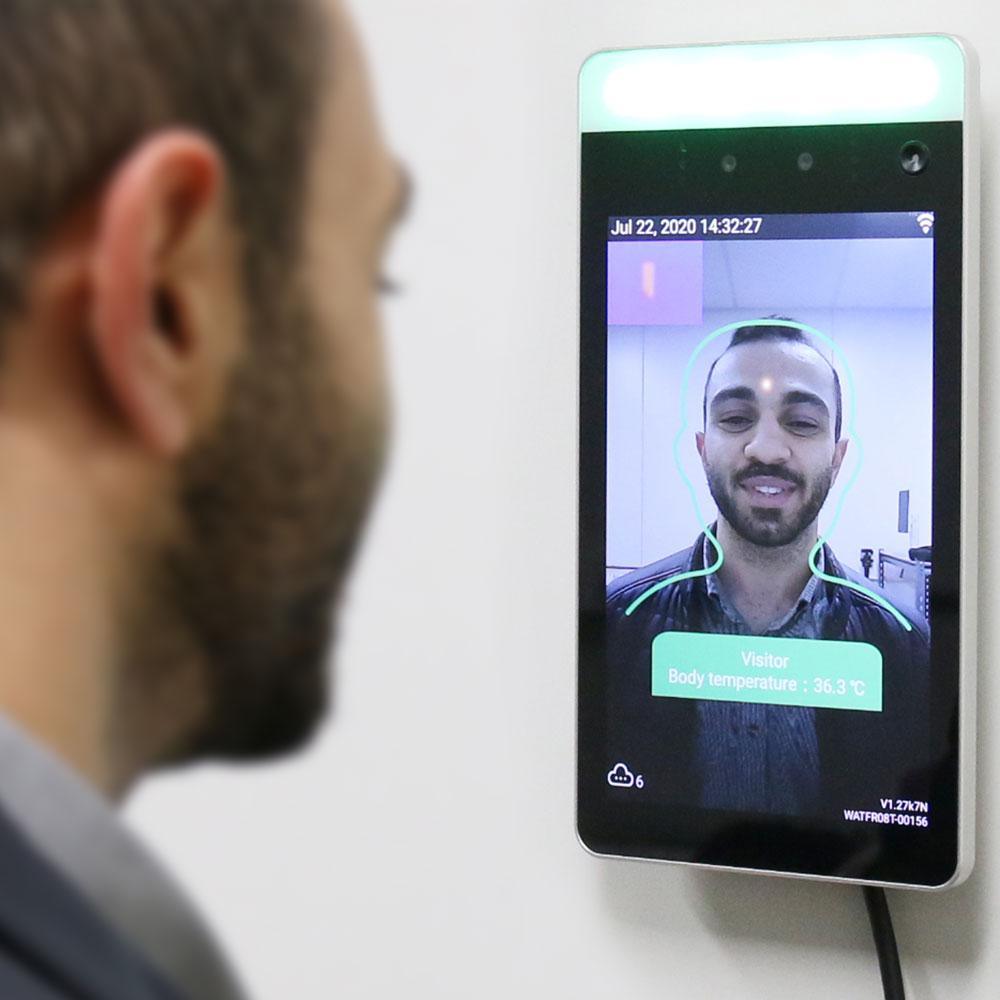 Access control through facial recognition & temperature screening
Verify the identity of employees in seconds. Contactless temperature screening. Paperless attendance for workplaces & work sites.
Accurate & reliable

Accuracy of ±0.3°C for temperature screening with less than 1 second response. 

Contactless temperature screening

No officer needed to take the subject's temperature. Fully automated process.

Mask detection

Enforce a mask-wearing rule on everyone before they enter your premises.

Access control system

Allow access only if their body temperature is within an acceptable range.

Attendance recording

Automatically record the attendance of registered users and sync the data on Andalink.

Sync data from multiple locations

Sync the data of temperature screening and employee attendance through Andalink.
The Andatech Accesspoint FRX should not be solely used to diagnose or exclude a diagnosis of COVID-19 or any other disease. Elevated body temperature should be confirmed with secondary evaluation methods such as a TGA approved, medical-grade thermometer.
How the Andatech AccessPoint FRX Temperature Screening Device works
1. Facial recognition & temperature screening

Stand in front of the Andatech Accesspoint FRX and face the device camera. The device will identify your face instantly and take your temperature.

2. Access control will allow or deny access

If your temperature is below the set limit (e.g. 38°C), the Accesspoint FRX grants you entry. If it's above the set limit, entry is denied.

3. Test results will be synced to Andalink

The test result data is synced live with Andalink online.
More information on the Andatech Accesspoint FRX
View and download the user manual for the Andatech AccessPoint FRX Temperature Screening Device

User Manual

View and download the fact sheet for the Andatech AccessPoint FRX Temperature Screening Device

Fact Sheet