Comprehensive portable breathalyser with GPS for workplace alcohol testing. Store up to 65,000 breath alcohol test data with employee details.
Request a quotation
Specifications

SKU: ALS-PRODIGY 2S LITE

AS3547 certified: AS3547:2019

Sensor type: Fuel cell sensor

Testing mode: Specific & passive testing

Accuracy: ±0.005g/210L at 0.100g/210L

Response time: 2 seconds

Recovery time: 3 seconds

Calibration frequency: Unlimited tests, every 6 months

Compatible software: Prodigy software.

Built-in memory: 65,000 test results

Display: 3.2" TFT colour touch screen

Power supply: 7.4 V 2000mAh 14.8Wh rechargeable lithium battery

Weight: 333g including batteries

Dimensions: H: 19.5cm, W: 7.9cm, D: 3.5cm

Warranty: 3 years, extendable up to a lifetime under the Andatech Lifetime Guarantee

Includes Andatech Prodigy 2S Lite, user manual, 2x rechargeable batteries, leather pouch, hard case, battery charging dock, car charging cable, mini USB cable, 5x mouthpieces, 1x sampling cups.
Share
View full details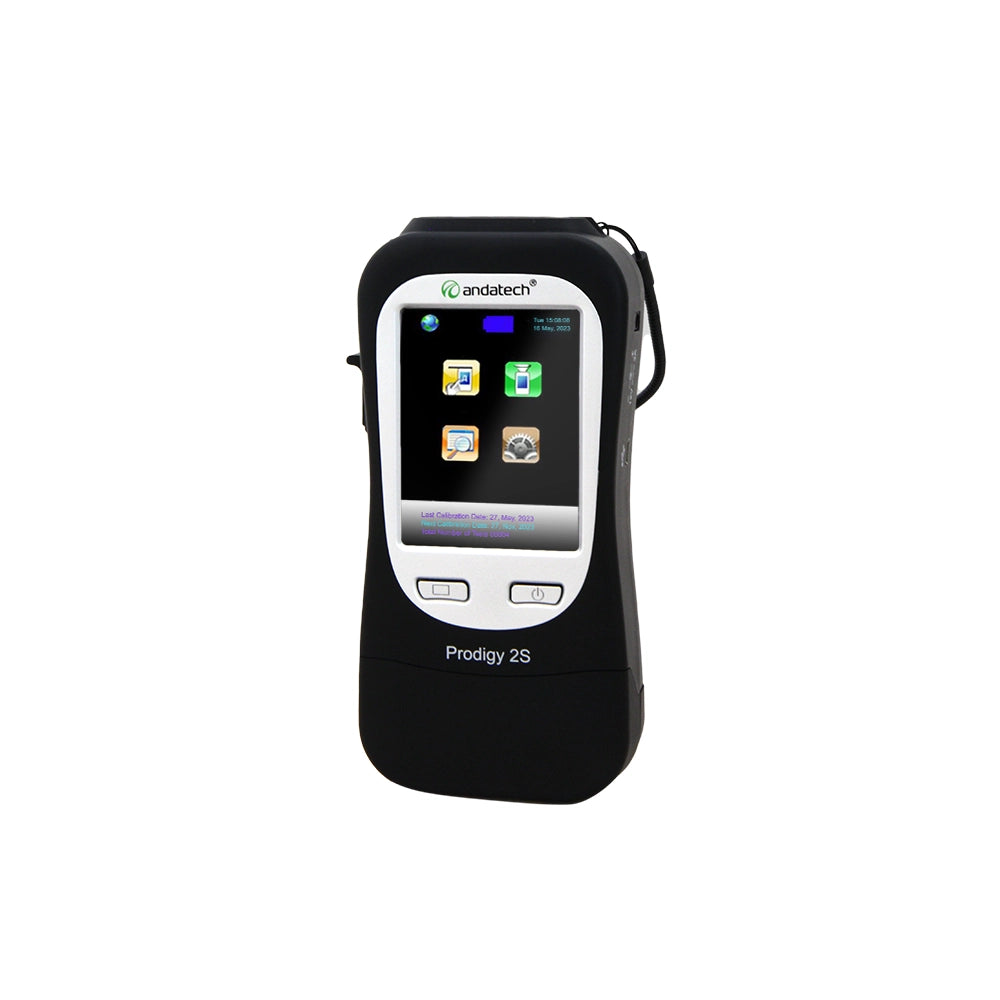 Comprehensive portable breathalyser for your entire workplace
Store all your employees' breath alcohol data in the Prodigy 2S Lite breathalyser thanks to its large memory capacity. Plus, include location tracking with every test using its built-in GPS.
Accurate & reliable

Accuracy of ±0.005 %BAC at 0.100 %BAC. Australian Standard AS3547:2019 certified.

Extra fast specific and passive tests

Response time of 2 seconds and recovery time of 3 seconds.

No room for error

Clean air test to ensure the mouthpiece and sensor are clear of alcohol from any previous tests.

Extra large built-in memory

Store up to 65,000 test results with employee information, including if the subject refused to take a test.

Built-in GPS

Record employee's breath alcohol test results, including their location details (GPS latitude & longitude).

Rechargeable

No more running low on your battery supplies - the Prodigy 2S Lite comes with two rechargeable batteries and a charger.

Clear 3.2" TFT colour touch screen

Easily navigate the settings and input data with your fingers or the included stylus pen on the screen.

Export data to your PC

Easily export your employees' breath alcohol data to a PC with the USB cable.
How to use the Andatech Prodigy 2S Lite Portable Workplace Breathalyser
1. Attach a mouthpiece to the device.

2. Select 'SPECIFIC' on the screen and the device will run a clean air test.

3. Input employee information with the stylus pen. 

4. Follow the instructions on the screen and blow until a click is heard.
More information on the Andatech Prodigy 2S Lite Portable Workplace Breathalyser
View and download the user manual for the Andatech Prodigy 2S Lite Portable Workplace Breathalyser

User Manual

View and download the fact sheet for the Prodigy 2S Lite

Fact Sheet

Export data from the Prodigy 2S Lite to your PC using the included USB cable.

Prodigy software