All our breathalysers go through extensive research and testing for Australian Standards AS3547 Certification.
See why we're an Australian favourite with over 700+ positive breathalyser reviews and testimonials from customers.
Our Breathalyser Guarantee extends your breathalyzer warranty up to 5 years for workplace breathalysers.
Collection:

BrAC Breathalysers
If your workplace needs a BrAC breathalyser, look no further than an Andatech industrial breathalyzer. Our breathalysers shown below can provide readings in both BAC and BrAC formats to suit your alcohol testing policy requirements. Changing a breathalyser's unit readings to BrAC are by request only, so do contact us to inform us before you make an order.
Shop the range below or for more information on breathalysers that read in BrAC, contact our sales team or get a quote below.
AlcoSense Elite 3 BT

NEW Breathalyser with Mobile App

Andatech Precision+

Andatech Surety

Andatech Prodigy S

Andatech Prodigy S Solution Pack

Andatech Prodigy S Print Pack

Andatech Surety Print Pack (Bluetooth)

Andatech Precision+ Alcohol And Drug Testing Kit Combo

Andatech Prodigy S Alcohol And Drug Testing Kit Combo

Andatech Surety Alcohol And Drug Testing Kit Combo
---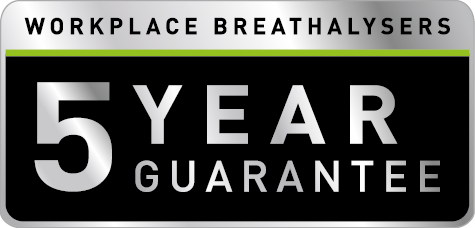 Backed by Andatech's 5 Year Guarantee
All Andatech workplace BrAC breathalysers come with a standard 1 year manufacturer's warranty.
However, if you calibrate your alcohol breath tester every 12 months from the date of purchase, we will continue to extend the manufacturer's warranty up to 5 years from the original purchase date as long as the calibrations are maintained.
Unsure of which model to choose? Compare breathalyser models and find the best fit for your company.
Calibration Management Plans
Maintain your breathalyser to Australian Standards AS3547 requirements by calibrating it every 6 months.
Get this process automated and completed easier, faster and more cost-effective with our yearly calibration management plans.
Ordering in large quantities or want a recommendation on the best breathalyser for your needs?
Contact our sales team now to discuss your requirements.
BAC (blood alcohol concentration) is the measure of alcohol in the blood stream. It is usually expressed as grams of alcohol per 100ml of blood or %BAC. Similarly, BrAC (breath alcohol concentration) is the measure of alcohol in a breath sample, and is usually expressed as mg/l.
Alcohol can be measured from a breath sample because alcohol in the blood stream evaporates through the lungs, into our breath, and is exhaled from the body in small amounts. Alcohol is typically exhaled at a ratio of 2100:1, but this varies between individuals and can depend on various factors. Based on the ratio, it means that 2100ml of air in the breath will have the same alcohol content as 1ml of blood in the body.
By design, breathalysers cannot measure our BAC (blood alcohol concentration) directly - they can only read BrAC (breath alcohol concentration) levels.
Since legal driving limits in most areas are defined in BAC terms, it is necessary for an alcohol breath tester to convert the measured BrAC reading into BAC format. This conversion is a math function using the assumed 2100:1 conversion ratio.
Andatech's personal breathalysers are preset at the factory to read in %BAC as it is the most useful for personal use.
While Andatech workplace breathalysers read %BAC by default, they can be set to display in various BrAC formats - customers just need to inform our sales team prior to ordering. This is so that our technicians can set the unit reading for your breathalyzers to BrAC before calibrating and shipping it out to you.
See individual product pages for more details or contact us to enquire.