Andatech Prodigy 3 Breathalyser

The Ultimate Breathalyser for Safety and Accountability

Alcohol breath tester with camera, data upload and built-in printer

The Andatech Prodigy 3 is our most advanced handheld breathalyser yet.
Ideal for law enforcement, workplace alcohol testing, and even personal use, the Prodigy 3 is the best breathalyser for keeping accurate records of tests as well as visual proof of the user.
Live Alcohol Breath Test Results Online

Check each test record instantly on your online Andalink account

When anyone takes a breath test on the Prodigy 3, it takes a picture of the subject blowing into the device. This, plus the alcohol breath test result, GPS location details, and any additional details included during the test, is synced with your Andalink account almost instantly.
This is ideal for live monitoring of your workplace or organisation's alcohol testing policy, and provides solid record-keeping with photographic evidence of every alcohol breath test taken by employees, patients or visitors.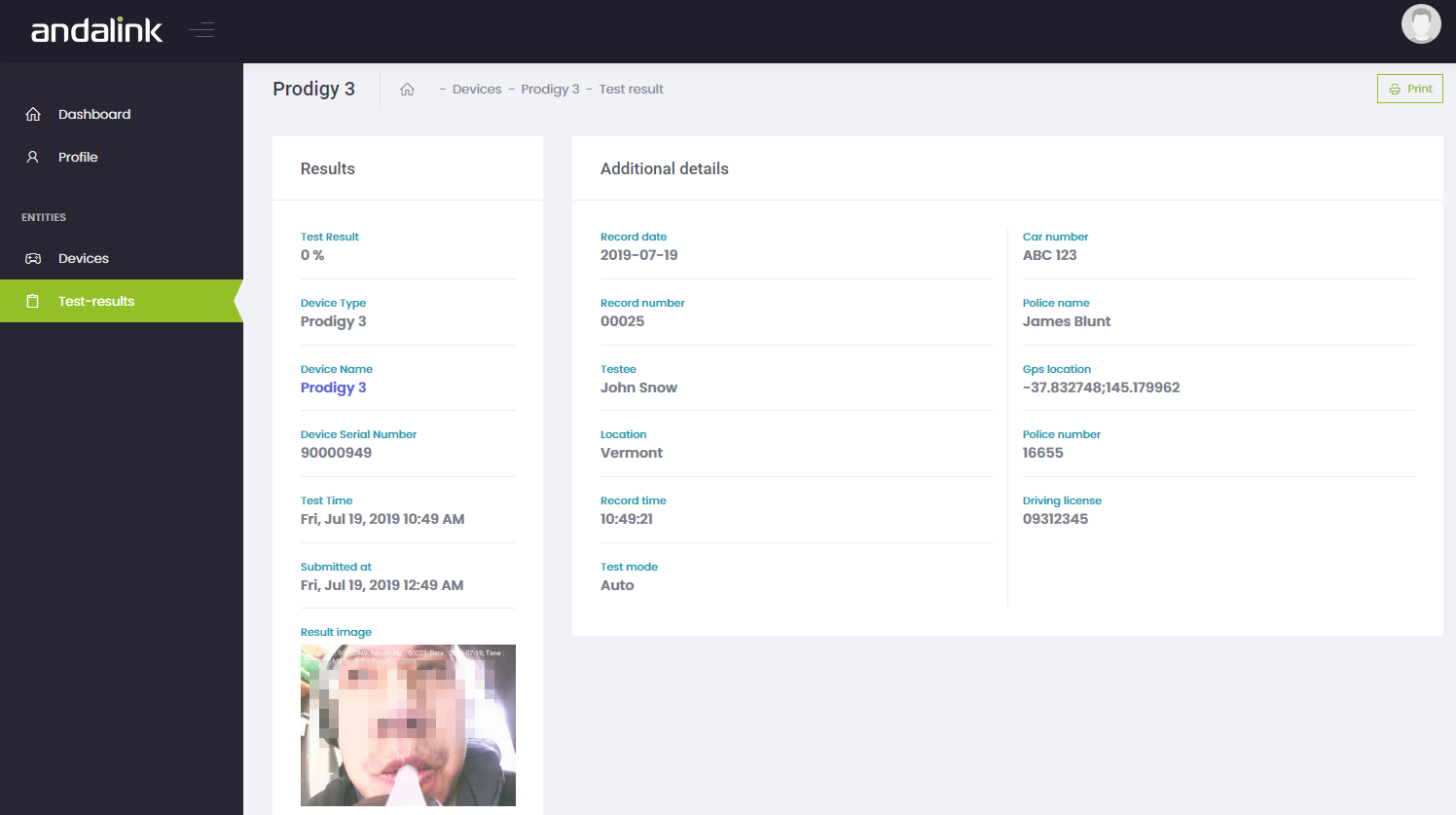 A secure, cloud-based software that bridges Prodigy 3 with a state-of-the-art traceability system.
With our easy-read dashboards, email notifications and more, all you need to do is to input the testee and tester's name name on your Prodigy 3 device, and the software will do the rest.
Our website is secured via SSL (Secure Sockets Layer) and link encryption, so everything is safely stored on the cloud and available for future reference.
Synchronization of Multiple Devices, at Multiple Locations
The platform is accessible anytime, and anywhere. Just log in, and you can view any past records.

Advanced Fuel Cell Sensor Technology

Its advanced fuel cell sensor provides exceptional accuracy and long lifespan for high volume testing.



Highly Accurate BAC / BrAC Readings

The Prodigy 3 breathalyser provides accurate readings ranging from 0.000 – 0.400% BAC at an accuracy of +/- 0.005% BAC. Can also be configured to provide BrAC readings.



Get a BAC result in just 3 seconds after taking a sample.
Excellent for workplace alcohol testing


Passive Testing (Fast Mode)

Passive testing mode using a sampling cup provides even faster results when testing multiple individuals.



All-in-one workplace breathalyser with camera, data upload, and built-in printer, ideal for large workplaces with high volume alcohol testing.

Clean and Hygienic Testing

Eject the mouthpiece from the breathalyser after conducting a breath test - quick, easy, and sanitary.

Before a test, the Prodigy 3 will take a clean air sample to ensure the mouthpiece and sensor are clear of alcohol from any previous tests.

Large Colour Touch Screen

Store details, take samples, and input information easily using the Prodigy 3's colour touch screen. Easy to input by hand or the included stylus pen

Specific Data Input and Fields

Allows input of data such as Driver Name, Vehicle Number and Licence Number before a breath test to keep comprehensive records.
Print Records On-the-Spot

With the Prodigy 3's built-in printer, you can print results immediately after a test for record keeping.
Previous test results can also be printed at any time by accessing the test records.

Records the location of the alcohol breath test taken for better tracking of employee test results.

Features a built-in camera that takes a picture of the user taking the breath test to prevent any circumvention of records.
Australian Standards AS3547 Certified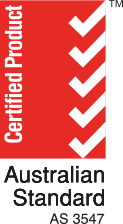 Tested and certified to Australian Standards

USB functionality for downloading and exporting data to a PC, perfect for storing all employee data and history.

Convenient On-Site Alcohol Testing

Travel from site to site and keep on testing with the Andatech Prodigy 3 Breathalyser – It's simple to set up, and even simpler to use. With advanced options for testing, screening and storing information; make sure you and your employees have the information to comply with any OHS policy.
The Prodigy 3 comes with a highly durable hard carry case for easy storage and portability. This makes the Prodigy 3 extra convenient for onsite alcohol testing and rugged use.
Also included are some spare printer rolls, a battery charger and car adaptor for extra convenience.
Additional User-Friendly Features

Set calibration reminders for 6 months, 12 months, or anywhere up to 2,000 tests for easier maintenance of breathalyser calibrations

Storage capacity for up to 100,000 entries. Ideal for large companies and frequent testing. Entries can be viewed in the breathalyser itself or exported to a PC for record keeping

Convenient Rechargeable Batteries

Includes 2 rechargeable batteries plus a charger, so you always have a spare battery and a working unit while the other is charging

Unlimited Tests between Calibrations

No limit on the number of tests the Prodigy 3 can take before calibration is required (every 6 months to maintain Australian Standards).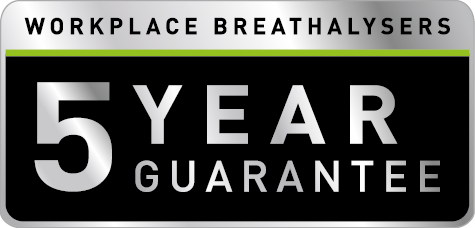 Backed by Andatech's 5 Year Guarantee
All Andatech workplace breathalysers come with a standard 1 year manufacturer's warranty.
However, if you calibrate your breathalyser every 12 months from the date of purchase, we will continue to extend the manufacturer's warranty up to 5 years from the original purchase date as long as the calibrations are maintained.
Model No.
ALS-PRODIGY-3
BAC Range
0.000% - 0.400%BAC
Sensor Type
FxCell3 Fuel Cell Sensor
Accuracy
0 - 0.10%BrAC: ±5% | 0.10 - 0.15% BrAC: ±8% | >0.15%: ±10%
Warm Up Time
Within 5 seconds
Response Time
Within 2 seconds
Recycle Time
3 seconds
Working Temperature
(-)10 – 50°C, (Storage: -30 - 70°C)
Power Supply
7.4V 1800mAh NI-MH rechargeable battery (Optional accessories: 12V Car Adaptor / AC 6V Adaptor)
Mouthpieces
1 sampling cup, 5 mouthpieces supplied (please note this unit is only compatible with AlcoSense mouthpieces)
Memory Capacity
100,000 test records including all information
Result Reading
0.000% - 0.400%BAC

Result readings can also be changed to the following BAC and BrAC formats. Please specify this at the time of purchase or during calibration:

BAC
0.000 ~ 4.000 ‰
0.000 ~ 0.400%BAC
0~40.0 mg/100ml

BrAC
0.000 ~ 2.000 mg/l BrAC
0.000 ~ 4.000 g/l
0~200μg/100ml
0~2000μg/l

Certification
Australian Standard AS3547
Calibration Frequency
Unlimited tests, every 6 months
Display
4.3 inch TFT Colour Touch Screen
Features
Android 5.1 operating system, 3 decimal place reading, flow control, auto power off, battery low indicator, passive/fast mode, sanitary mouthpiece ejection button, test counter, memory function, designed for mass testing, built-in thermal printer, calibration reminder, extreme temperature tolerance, GPS (±5M), PC compatible, camera (5 megapixel, 120-degree wide angle lens), 3G connection, WIFI connection
Includes
User manual, 5 mouthpieces, batteries, carry case, 1 sampling cup, battery charger, micro USB cable
Product Weight
423g including batteries
Dimensions
H: 212mm, W: 80mm, D: 36mm
Warranty
1 year (up to 5 years under the Andatech Guarantee)
Andatech Prodigy 3 Breathalyser with Camera and Printer
Fact Sheet
Andatech Prodigy 3 Breathalyser with Camera and Printer
User Manual
Get a Quote
Fill in the form below with your details and requirements, and someone from our team will get back to you shortly! Or, give us a call on 03 8899 6900 to speak with our friendly team :)