Remote alcohol monitoring breathalyser with photo-verified alcohol test results, location tracking & online data management.
Request a quotation
Specifications

SKU: ALS-PRODIGY 3 LITE

AS3547 certified: AS3547:2019

Sensor type: Fuel cell sensor

Testing mode: Specific & passive testing

Accuracy: ±0.005g/210L at 0.100g/210L

Response time: 2 seconds

Recovery time: 3 seconds

Calibration frequency: Unlimited tests, every 6 months

Compatible software: Andalink

Built-in memory: 100,000 test results

Display: 4.3" TFT colour touch screen

Camera: 5 megapixels 120° wide angle lens

Internet connection: Wi-Fi, 4G (optional)

Power supply: 7.4 V 2000mAh 14.8Wh rechargeable lithium battery

Weight: 354.5g including batteries

Dimensions: H: 17.1cm, W: 8.3cm, D: 3.6cm

Warranty: 3 years, extendable up to a lifetime under the Andatech Lifetime Guarantee

Includes Andatech Prodigy 3 Lite, user manual, 2x rechargeable batteries, leather pouch, hard case, battery charging dock, power adapter, car charging cable, micro USB cable, 5x mouthpieces, 1x sampling cup
Share
View full details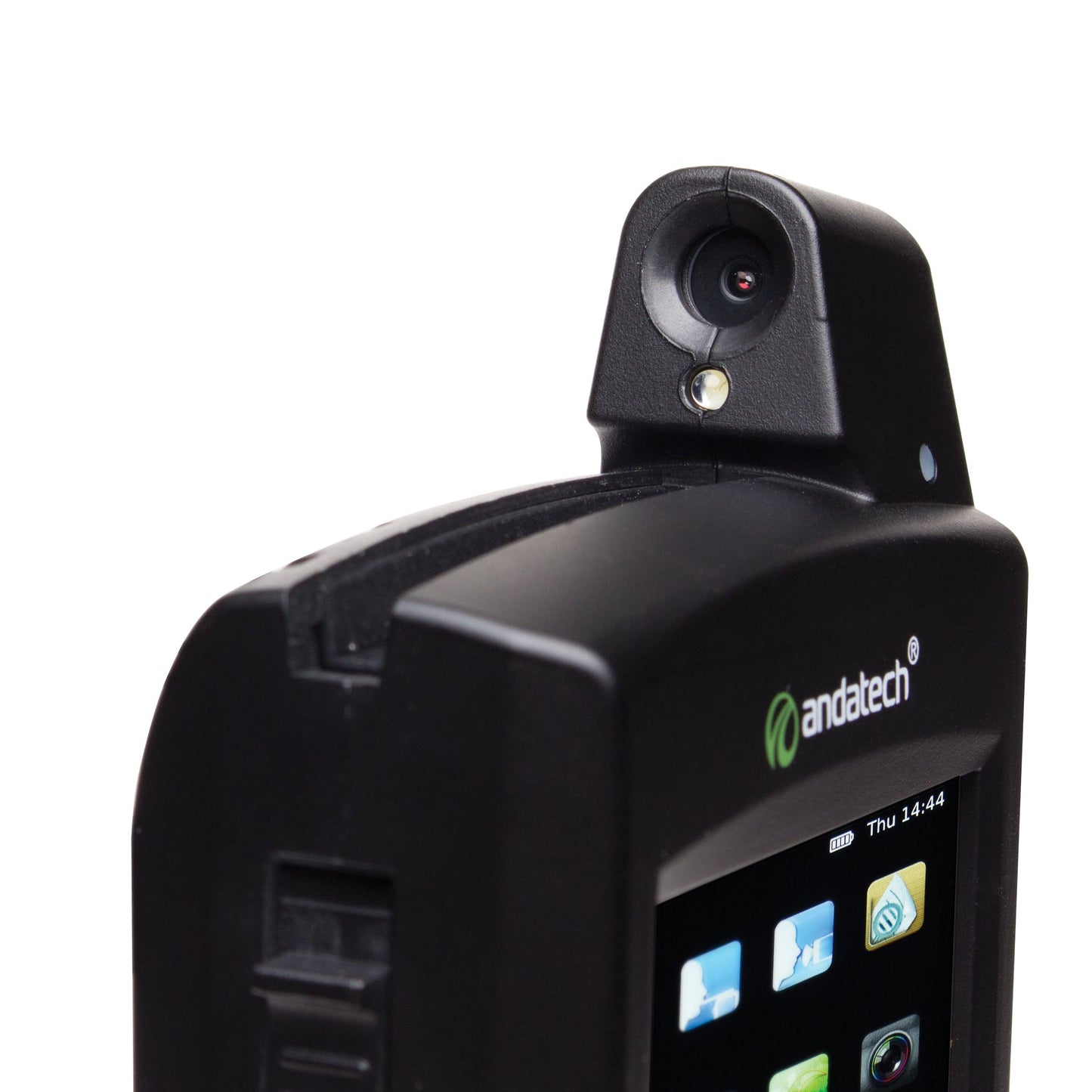 Remote alcohol monitoring for trust and accountability 
Share a photo-verified record of your sobriety directly from the Prodigy 3 Lite breathalyser. Photo and alcohol test results are synced to Andalink for remote monitoring, and its built-in GPS allows you to tag the test location to each alcohol breath test record.
Photo verified alcohol test results

Each alcohol breath test is verified by taking a photo while the person is taking a test.

Alcohol test with location tracking

With the Prodigy 3 Lite's built-in GPS, each BAC result includes the time, date & GPS location where the test was completed.

Tamper-proof alcohol test results

Once a test is taken, results cannot be amended or deleted from the breathalyser. 

Accurate & reliable BAC results

Law enforcement grade accuracy. Australian Standard AS3547:2019 certified.

Fast BAC testing

Fast response time of 2 seconds and recovery time of 3 seconds.

Synced, hassle-free data management

Each test result and photo is sent directly to Andalink, our secure online data management system. No cables or software downloads needed.

No room for error

Clean air test to ensure the mouthpiece and sensor are clear of alcohol from any previous tests.

Extra large built-in memory

Store up to 100,000 test results with user  information, including if the subject refused to take a test.

Clear 4.3" TFT colour touch screen

Navigate the settings and input data easily with the large touchscreen and onscreen keyboard.

Rechargeable

No more running low on your battery supplies. Prodigy 3 Lite comes with two rechargeable batteries and a charger.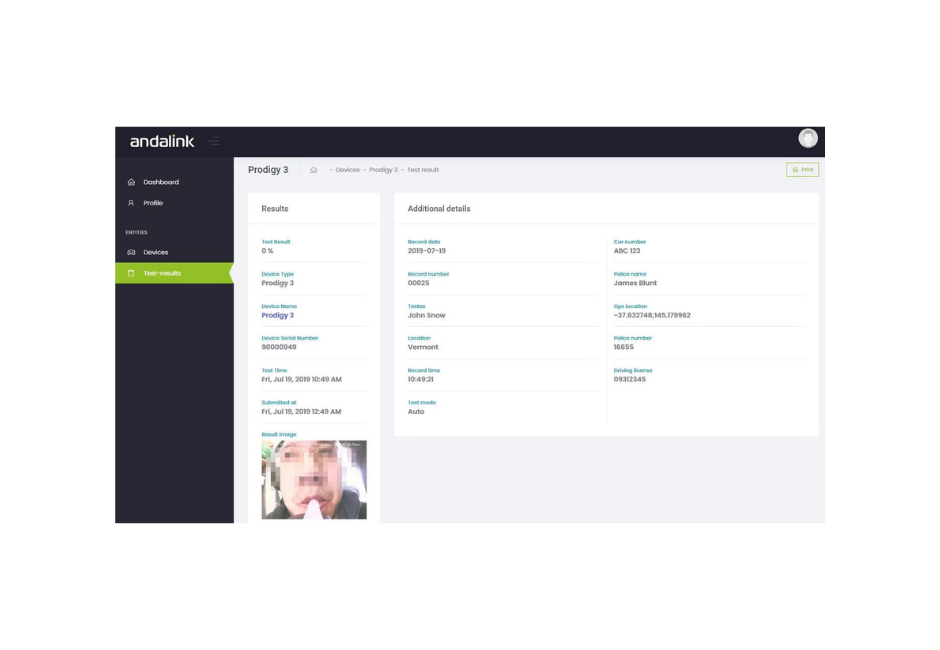 Hassle-free data management with Andalink
Manage all photo-verified breath alcohol data from multiple units or locations in one place. All test data are synced to Andalink online. No cables or software downloads needed.
Learn more about Andalink
Remote alcohol monitoring for various uses
The Andatech Prodigy 3 Lite breathalyser's photo-verified alcohol breath test results are invaluable in cases such as:
Family Law & Child Custody Cases

Keep track of a parent's drinking behaviour and protect children during visitations and parenting time.

Support Family & Friends

Increase accountability and encourage lasting behavioural change among friends or family who need support.

Compliance Monitoring

Convenient and accurate self-testing anywhere you go with verifiable and easily shareable results.

Teen Drivers

Enjoy peace of mind knowing that your driving-age child is making responsible decisions on the road.

Medical & Health Professionals

A user-friendly and cost-effective monitoring system for treatment centres and addiction management programs.

Workplace Management

A quick and inexpensive approach to guarantee that drivers and employees are sober at work.
How to use the Andatech Prodigy 3 Lite Portable Workplace Breathalyser
1. Attach a mouthpiece to the device.

2. Select the standard test icon on the screen and the device will run a clean air test.

3. Input the user's information with the touch screen.

4. Follow the instructions on the screen and blow until the beep tone stops. A photo will be taken while blowing.

5. The results will be saved on the breathalyser and synced to Andalink.

6. Follow the onscreen instructions to complete the test or take another another breath test.
More information on the Andatech Prodigy 3 Lite Portable Workplace Breathalyser
View and download the user manual for the Prodigy 3 Lite breathalyser

User Manual

View and download the fact sheet for the Prodigy 3 Lite breathalyser

Fact Sheet